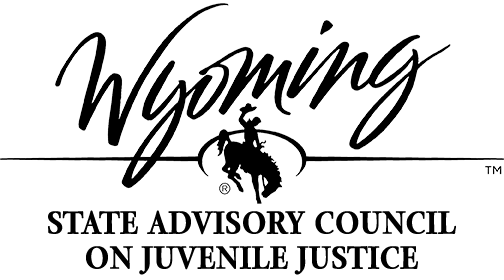 NOTICE:
State Advisory Council on Juvenile Justice Meeting
Wyoming Board of Medicine
130 Hobbs Ave., Ste. A
Cheyenne, WY 82009
307-778-7053
There will also be a Zoom video conference option available
*Please email SACJJ Coordinator Brandon Schimelpfenig, [email protected], for meeting link*

**At approximately 1:30p on 1/13 there will be a Public Comment period**
Thursday, January 13th, 1 PM to 5 PM
Friday, January 14th, 8:30 AM to 11 AM
Documents for this meeting are as follows:
DRAFT-November 2021-Minutes
Agenda-January 2022
If you are considering serving on the State Advisory Council on Juvenile Justice, please follow one of the below options:
Printed applications may be sent to:
Gabi Farmer
Boards and Commissions Coordinator
Wyoming Governor's Office
200 W. 24th St.
Cheyenne, WY 82002
(307) 777-5387
[email protected]
2022 Meetings Dates/Locations
1/13-1/14: Cheyenne, WY
4/14-4/15: Dubois, WY
6/23-6/24: Evanston, WY
9/15-9/16: Rawlins, WY
11/17-11/18: Buffalo, WY
This Web site is funded through a grant from the Office of Juvenile Justice and Delinquency Prevention, Office of Justice Programs, U.S. Department of Justice. Neither the U.S. Department of Justice nor any of its components operate, control, are responsible for, or necessarily endorse, this Web site (including, without limitation, its content, technical infrastructure, and policies, and any services or tools provided).