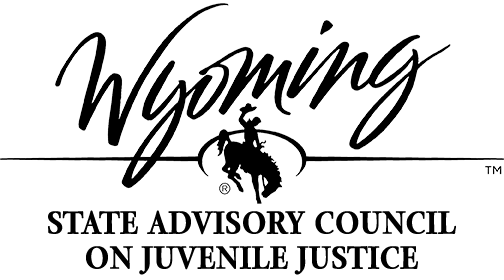 Mission Statement
To provide vision, training, and support for a model juvenile justice system in Wyoming.
Goal
To improve the coordination and effectiveness of statewide and local delinquency prevention, juvenile justice and youth services programs.
Vision Statement
A Wyoming where children and families will receive education, care and support to become responsible, successful citizens.
Objectives
Develop prioritized recommendations concerning juvenile justice, delinquency prevention and juvenile services to be reviewed annually.
To coordinate the implementation of the recommendations.
To provide for the distribution of available funds for delinquency prevention, juvenile justice, and youth services.
If you are considering serving on the State Advisory Council on Juvenile Justice, please follow one of the below options:
Printed applications may be sent to:
Gabi Farmer
Boards and Commissions Coordinator
Wyoming Governor's Office
200 W. 24th St.
Cheyenne, WY 82002
(307) 777-5387
[email protected]
2021 Meetings Dates/Locations
1/14-1/15: Via Zoom
4/15-4/16: Via Zoom 
6/17-6/18: Afton, WY
9/16-9/17: Basin, WY
11/18-11/19: Newcastle, WY
This Web site is funded through a grant from the Office of Juvenile Justice and Delinquency Prevention, Office of Justice Programs, U.S. Department of Justice. Neither the U.S. Department of Justice nor any of its components operate, control, are responsible for, or necessarily endorse, this Web site (including, without limitation, its content, technical infrastructure, and policies, and any services or tools provided).