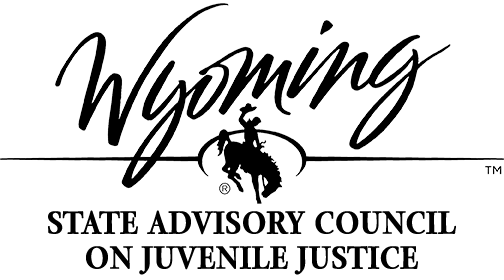 Members/Committees
The State Advisory Council on Juvenile Justice (SACJJ) is the statewide resource for the Governor, Legislature, and communities in the fields of juvenile justice, youth services, and delinquency prevention. The SACJJ assists in reviewing, recommending existing and new, applicable research and outcome-based juvenile accountability programs and strategies ranging from prevention and intervention to long-term detention or treatment programs for youth. In addition, the SACJJ supports in reviewing grant applications for the allocation of the Non-Participating State grant funding stream from the Office of Juvenile Justice and Delinquency Prevention (OJJDP) in collaboration with Volunteers of America Northern Rockies.  The SACJJ is committed to a balanced approach increasing public safety, providing both agency and offender accountability, while affording youth opportunities to develop as responsible citizens.
3-Rock Springs (Vice Chair)
Attorney General's Office
Wyoming State Legislature
Executive
---
Created by By-Laws and elected at first meeting of calendar year. Leadership of the council, develops vision and long-term goals, develops meeting agendas, oversees and develops amendments (as needed) to the By-Laws, drafts the Annual Report to the Governor.
Damon DeBernardi, Vice-Chair
Grants (Budget and Financial Review)
---
Created by By-Laws and elected at first meeting of calendar year.
Best Practices
---
Promotion of and focus on the four core protections (JJDP Compliance Monitoring). Be aware of and notify the Council of compliance visits as scheduled by VOA. Identify resources and services around juvenile justice, who is utilizing best practices, and examine how these resources may be leveraged.
Outreach
---
Responsible for raising awareness of juvenile justice issues; public relations with juvenile justice stakeholders as well as the general public; collaborate with Volunteers of America Northern Rockies (VOA); assists in outreach to youth members; planning and organization of the Council's annual community award for best practices.
*Additional assistance from VOA's Project Director, Craig Fisgus.
Data
---
Responsible for formulating recommendations related to comprehensive, meaningful data collection and analysis.
Legislative
---
Ongoing tracking of any relevant state and federal legislative issues; assisting in the development of draft legislation by the council (as needed); reviews Council's state and federal statutory obligations.
Youth Members
---
Provides an opportunity for youth members to become familiar with their role on the Council; recruit youth members; develop ways to better inform the Council about the youth perspective.
2021 Meetings Dates/Locations
1/14-1/15: Via Zoom
4/15-4/16: Via Zoom 
6/17-6/18: Via Zoom
9/16-9/17: Via Zoom
11/18-11/19: Via Zoom
This Web site is funded through a grant from the Office of Juvenile Justice and Delinquency Prevention, Office of Justice Programs, U.S. Department of Justice. Neither the U.S. Department of Justice nor any of its components operate, control, are responsible for, or necessarily endorse, this Web site (including, without limitation, its content, technical infrastructure, and policies, and any services or tools provided).